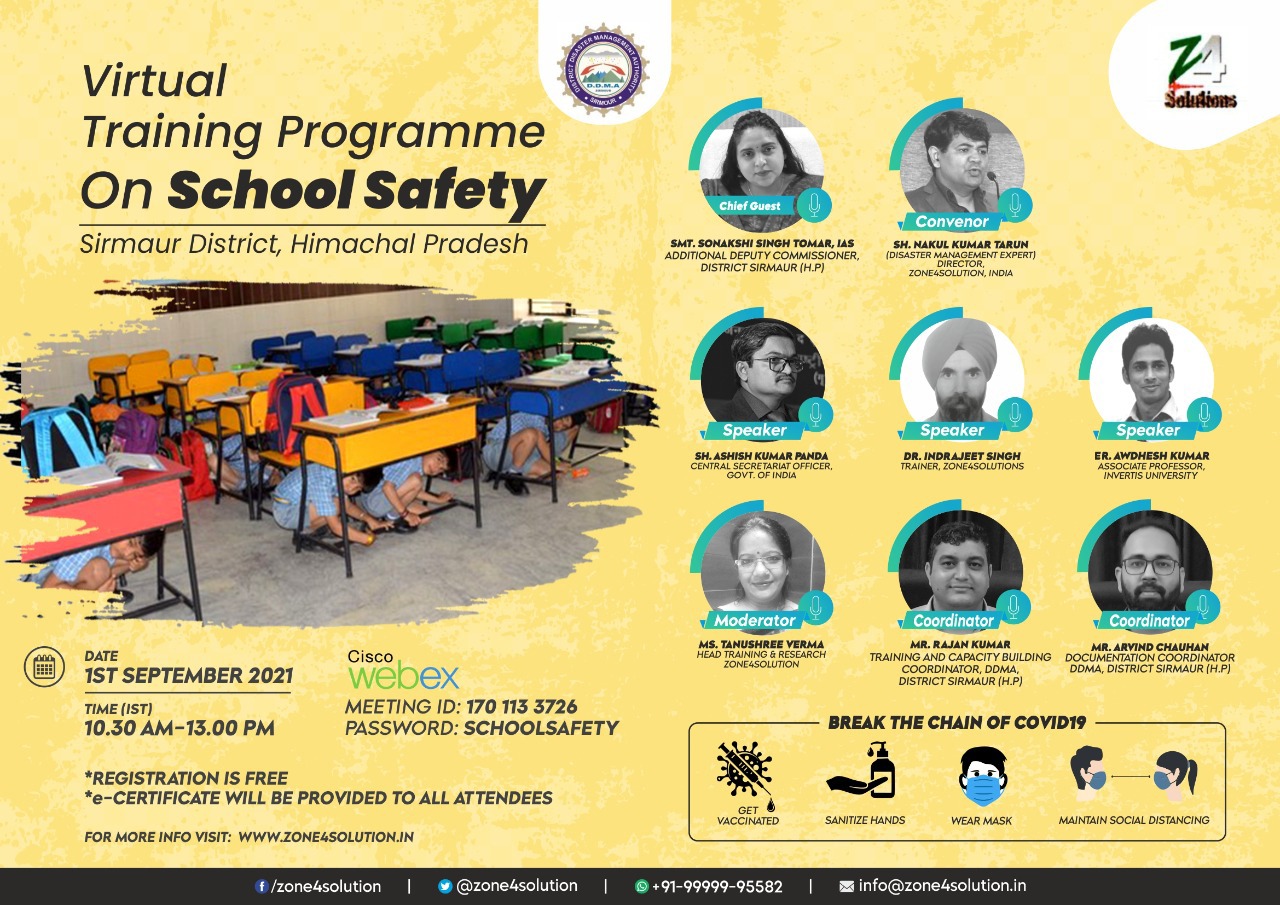 ---
Virtual Training Programme on "School Safety" Hosted by Zone4solution, New Delhi,India
Date: Wednesday, 1st September 2021
Time: 10:30 AM - 01:00 PM(IST)

Registration Link: https://bit.ly/3gzI39w
Participation is free of cost & Participants will be awarded with authorized e-Certificate.
Looking for your warm presence in programme
Virtual Training Programme on School Safety in Sirmaur District of Himachal Pradesh
Programme Schedule:
Hosted by Zone4solution
10:30-10:45 - Welcome Address and Introduction to Disaster Management in India Ms. Tanushree Verma,Head (Training and Research), Zone4solutions
10:45-10:50 - Inaugural address Officer from DDMA(Chief Guest of the Programme)
10:50-11:30 - School safety- Concept, strategies. Mr. Nakul Kumar Tarun, Director, Zone4solutions.
11:30-12:00 - Mental health issues and Psychsocial care of school going children – COVID 19 Mr. Ashish Kumar Panda, Central Secretariate Services, GoI
12:00-12:30 - Firstaid, fire-safety and search and rescue tips Dr Indrajeet Singh, Trainer, Zone4solutions
12:30-13:00 - Open house discussion and Vote of thanks To be moderated by Ms. Tanushree Verma, Head(Training and Research), Zone4solutions
About Zone4solutions
Zone4solutions is a Consulting Organization, towards Disaster Free India. India, due to its geo-climatic conditions as well as its socio-economic vulnerability, has been among the most disaster prone countries in the world. About 58.6% of its landmass is prone to earthquakes; over 40 million hectares (12% of land) is prone to floods; 68% of the cultivable area is susceptible to drought and out of the 7,516 km. coast line about 5,700 km. is prone to cyclones. Fire incidents, industrial accidents and other manmade disasters involving chemical, biological and radioactive materials are additional hazards, which have underscored the need for strengthening mitigation, preparedness and response measures.
For more information call: +91-9999995582.