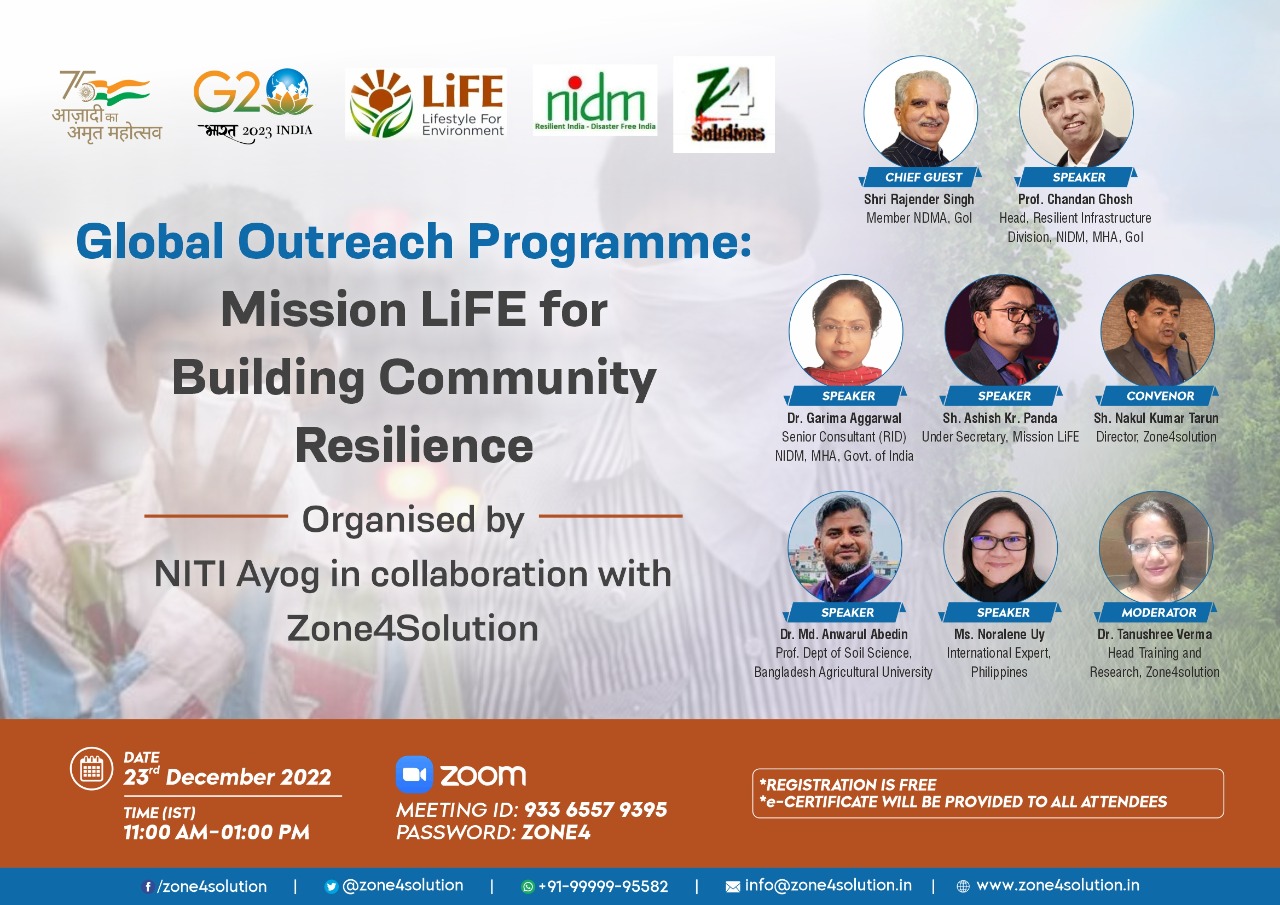 ---
"Global Outreach Programme: Mission life for building community resilience, NITI Ayog in collaboration with Zone4Solutions"
Date: 23rd DECEMBER 2022
Time: 11:00 AM - 01:00 PM(Indian Standard Time)

Registration Link: https://bit.ly/3G2yg9p
Participation is free of cost & Participants will be awarded with authorized e-Certificate.
Looking for your warm presence in programme
"Global Outreach Programme: Mission life for building community resilience"
Programme Schedule:
11:00 am-11:10am - Welcome Address and Introduction: Mr. Nakul Kumar Tarun, Director, Zone4solutions
11:10-11:25 - Inaugural address: Mr.Rajender Singh, Member NDMA (Chief Guest of the Programme)
11:25-11:45 - Overview and Context Setting: Dr Garima Agarwal, Sr Consultant, NIDM
11:45-12:00 - Environment Degradation Sustainability and Mission Life: Mr. Ashish Kumar Panda, Under Secretary , Mission LiFE
12:00-12:25 - Special Address- Behavioural change and practices for low Green House Gas emission –A sustainable solution: Prof. Chandan Ghosh, Head, Resilient Infrastructure Division NIDM
12:25-12:30 - Extreme event and Adaptation practices in the agriculture sector- Bangladesh: Dr Md. Anwarul Abedin Environmental Expert from Bangladesh
12:30-12:45 - Environmental Conservation and Sustainability : Ms.NoraleneUy International Expert, Philippines
12:45-13:00 - Open house discussion and Vote of thanks : To be moderated by Dr. Tanushree Verma, Head (Training and Research), Z4S

About Zone4solutions

Zone4solutions is a Consulting Organization, towards Disaster Free India. India, due to its geo-climatic conditions as well as its socio-economic vulnerability, has been among the most disaster prone countries in the world. About 58.6% of its landmass is prone to earthquakes; over 40 million hectares (12% of land) is prone to floods; 68% of the cultivable area is susceptible to drought and out of the 7,516 km. coast line about 5,700 km. is prone to cyclones. Fire incidents, industrial accidents and other manmade disasters involving chemical, biological and radioactive materials are additional hazards, which have underscored the need for strengthening mitigation, preparedness and response measures.
For more information call: +91-9999995582.