Concurrent Disasters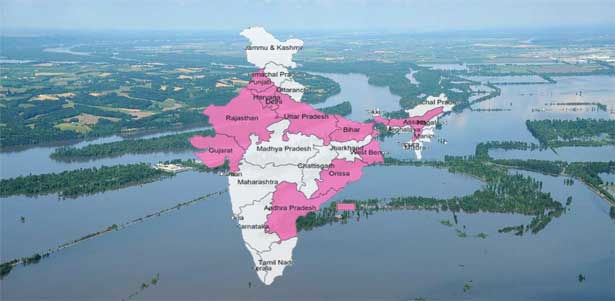 Jammu and Kashmir has faced unprecedented floods of the century in 2014. Incessant rains in the first week of September led to massive floods in state. The Jhelum River and its tributaries were in spate and caused havoc and huge damages to various districts of Kashmir Valley.
On September 4th, 2014 J&K experienced 30 hour long rainfall that has broken the record of many decades. September was not considered rainy season in the Kashmir and Laddakh region, but this year both these regions have recorded moderate to heavy rainfall.
Impact
The impact of floods in Jammu and Kashmir provinces was so relentless that it not only destroyed the agricultural terrains but also took away many human lives, the private and public property as well. The precious lives of 282 people were lost and many injured. The summer capital and business hub of the state, Srinagar got severely affected due to flood. Nearly 70% of the areas remained submerged for 20 days. Climate change and poor early warning system are the main causes of disaster.
Hudhud Cyclone
India, world's seventh largest country in area, with a coastline stretch of 7516 Km is exposed to nearly 10 percent of the world's tropical cyclones. About 71 percent of this area is in ten states (Gujarat, Maharashtra, Goa, Karnataka, Kerala, Tamil Nadu, Puducherry, Andhra Pradesh, Orissa and West Bengal). The islands of Andaman, Nicobar and Lakshadweep are also prone to cyclones. On an average, about five or six tropical cyclones form in the Bay of Bengal and Arabian sea and hit the coast every year. Out of these, two or three are severe. HUDHUD is the first cyclone that crossed Visakhapatnam coast in the month of October, after 1985 and it made landfall on the same day as VSCS Phailin did in 2013. At the time of landfall on 12th October, the estimated maximum sustained surface wind speed in association with the cyclone was about 185 Km/h.
Impact
The states of Andhra Pradesh and Odisha experienced severe consequences due to Hudhud cyclone.
Andhra Pradesh
Around 20, 93, 508 families of 4484 villages were affected due to the cyclone Hudhud as per report of Cyclone Warning Division, India Meteorological Department (IMD). 46 lives were lost in the havoc3. An estimated loss of Rs 21,908 crore, including damage to the tune of Rs 6,136 crore to private industries was reported in Andhra Pradesh. An enormous damage happened to the agriculture sector, resulting in crop loss of Rs 948 crore in 2.38 lakh hectares.
Odisha
A large part of the State has been affected and huge damages have occurred in various sectors due heavy cyclonic wind, torrential rainfall and consequent flooding. Around 33.44 lakh people in 9657 villages have been affected due to the cyclone Hudhud. Three persons have lost their lives due to cyclone. About 2,47,557 hectare of agriculture area affected out of which an area of 40,484.50 hectare have sustained crop-loss of more than 50% due to cyclonic storms.
BIHAR STEMPEDE
The disaster (stampede) can occur in any place where huge mass of people have assembled, in absence of quality crowd management strategies. On 3rd October 2014 tens of thousands of people had gathered at Gandhi Maidan in Patna for Dussehra celebration. The celebration turned into tragedy as a consequence of stampede in which 33 people have been killed and 29 other injured. Amongst the dead, there were 5-6 children and around 20 women. the post mortem examination of the victims' bodies had identified asphyxia as the main cause of the deaths.
Causes of the Stampede
Some eyewitnesses claimed that the stampede was triggered by rumors that some people had come in contact with a live wire. In the ensuing panic, slippers and shoes were seen strewn on a 500-metre-stretch as people tried to flee from the scene. There was such a rush towards the exit gate that several women and children were run over. To avoid stampede like tragedy a proper crowd management strategy and arrangement are required during the arrival of crowds; during the event at the venue and during the departure.
Do's and Dont's for Stampede
It is advisable to move in groups from the camps with the assistance of the controlling authority or group leader or police person.
Do not try to go against the direction of the crowd.
Do not lose temper and do not fight with others.
Understand the evacuation routes, emergency exits and layout of the place of event.
Keep calm. Don't panic.
Think before you do. Do not just blindly follow others.
Follow instructions given by the authorities, public address system etc.
Do not spread rumors.
Assist and collaborate with the organizers, authorities, fire services. Police etc.
The Chennai flood
Indian state Tamil Nadu experienced devastating flood in the month November and December 2015.Incessant rains in November led to massive floods in Chennai city and other parts of Tamil Nadu. Chennai was most affected by the floods. The floods were a result of poor urban planning and some other factors. About 470 people were killed, 12,000 cattle died, and millions of people were displaced in the state. In addition to the huge loss of public property, about 4.92 lakh houses were destroyed. The crop area which got damaged, was 3.83 lakh hectares. Overall estimate loss was 20 thousand to 1 lakh crores.
POSSIBLE CAUSES
Impact of climate change:
Global warming had played a large role in the rains of 2015.
Do not spread rumors.
Lack of awareness about pre warning:

On December 1st 2015 Chennai was facing heavy rains and at the same time Chennai authority released 25,000 cusecs of water from Chembarbakkam Dam. Although the flood warnings were given before releasing the water, but large population of Chennai was not aware of it.
But is not the root cause for such flood in metropolitan city. There were many other reasons for the flood, and one of the reasons is negligence towards our people's ignorance and environmental awareness.
Illegal Constructions and Encroachment

Over 650 water bodies had been encroached or land use had been switched to make space for IT parks, residential colonies etc. and the number of water bodies came down to less than 30. This reduced city's natural holding capacity of water drastically.
Chennai's infrastructure and residential construction had increased nearly 13 times since 1991, while the flood plains and open areas have been reduced by a quarter. Northwest and southwest zones of Chennai have the most unplanned growth. .
CAUSES OF WEST BENGAL FLOOD

West Bengal state suffered the havoc of severe flood in 2017. The basic reason of flood in this zone was the shape of its catchment area, its steep slope from a high level plateau area sloping sharply down to aflat terrain near the outfall and also adverse outfall condition because of its limited intake capacity. This feature is again adversely affected by the tidal condition as is generally noticed in the month of September, when the Hooghlyriveris in high tide condition. All such conditions coupled with poor drainage causes more accumulation of water resulting in spread of flood in the upstream of the river system in the west and beyond Berhampur. The land depression and low & poor maintenance of dam caused dangerous flood in West Bengal.
IMPACT

The disaster caused heavy loss of precious lives and extensive damage to private properties and public infrastructure. Over 52 lakh people had been hit by the floods in six north Bengal districts of Coochbehar, South Dinajpur, North Dinajpur, Jalpaiguri, Alipurduar and Malda. As per report made available by the State Government, a total of 14240 livestock were lost. 256175 and 504947 houses were fully/Severely and partially damaged respectively.
During to heavy rains in the region and rise of water level in most of the rivers, there were flood like situation in several districts of the state. As per the request of state government to manage the flood like situations, NDRF airlifted 07 teams from Rajali Airbase, Tamil Nadu. As such 19 teams of NDRF were deployed at Rajarhat (Kolkata) Jalpaiguri, Alipurduar, Birbhum, Medinipur, Malda, SouthDinajpur& North Dinajpur for flood rescue operations and distribution of relief material in consultation with state government. This was the highest ever deployment of NDRF in West Bengal.
NDRF teams conducted a number of flood rescue operations, in which they rescued 1,267 persons, evacuated 6062 persons and retrieved 09 dead bodies. Medical assistance was also provided to flood affected people.
Many of the rescues were carried out in the districts of Hooghly, East Medinipur, West Medinipur, Burdwan, North 24 Parganas and South 24 Parganas. NDRF teams, along with police and local authorities had distributed relief materials to flood victims.